Boston is a dynamic city emerging as a hub of international business, technology, and commerce. As a result, the real estate market in the town is booming, and Boston homes for sale are hot commodities. One of the most sought-after enclaves is the waterfront community of Seaport.
Seaport has some excellent fine dining options if you're looking for a delicious meal out. Whether you're craving Italian, seafood, or something else entirely, these restaurants have you covered. Check out our favorites below!
French and Italian
Menton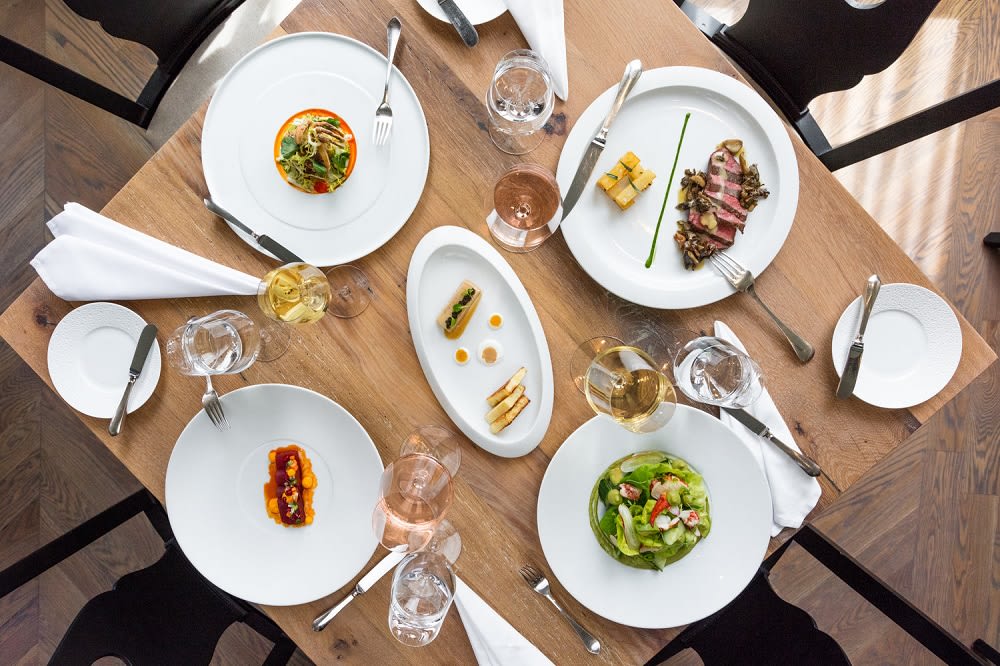 Photo courtesy of Menton
Menton is one of the best fine dining restaurants in Seaport, Boston. Chef Barbara Lynch creates French-Italian hybrid cuisine that is innovative and simply delicious. The upscale ambiance is glamorous and luxurious, boasting French linens and Australian wine glasses. Menton offers a prix fixe menu with four fabulous courses and a Chef's Tasting menu of unique offerings that change daily. The restaurant's hand-crafted cocktails are excellent, and the wine list features rare vintages. Menton is well worth a visit if you are looking for an unforgettable dining experience.
Tuscan Kitchen Seaport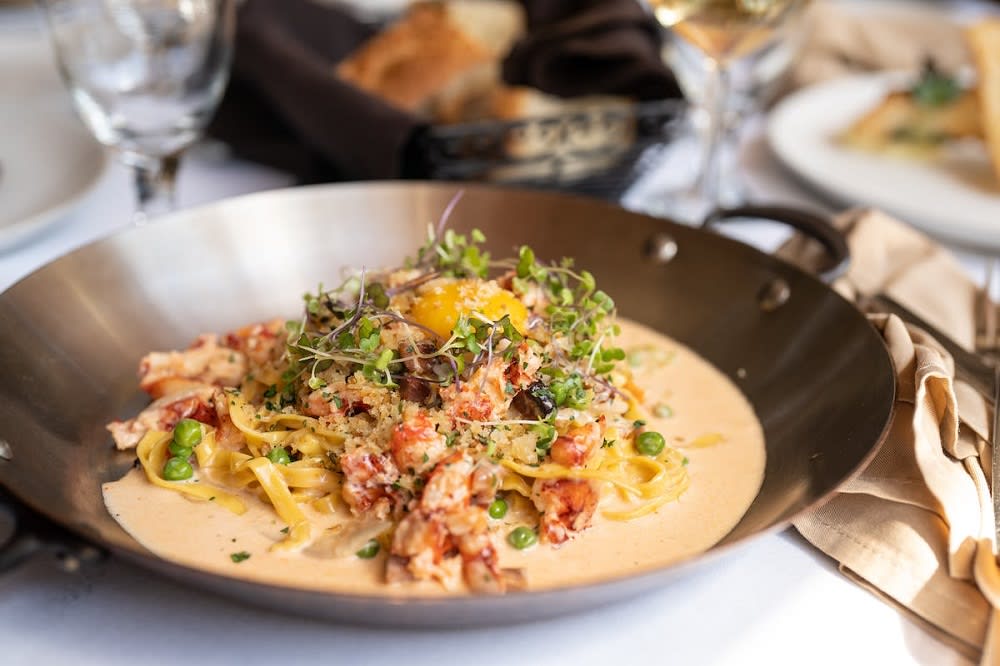 Photo courtesy of Tuscan Kitchen Seaport
Located in the heart of Boston's historic seaport district, Tuscan Kitchen Seaport is an exceptional upscale Italian restaurant. The restaurant features a beautiful view of the harbor, and the spacious dining room has a rustic-chic feel that is elegant and inviting. The menu features authentic Italian cuisine, including homemade pasta, bread, mozzarella, and salumi.
The Calamari Fritti is a popular starter, and entrees like the Lobster Carbonara are both delicious and give unforgettable presentations. The homemade Gelato is the perfect ending to any meal, and the open kitchen allows diners to watch as their food is expertly prepared. The Tuscan Kitchen Seaport also has an extensive wine list that includes classic and contemporary selections. Whether you're looking to have a romantic evening out with a special someone or a night of great food and conversation with friends, Tuscan Kitchen Seaport is sure to please.
Mediterranean
Chickadee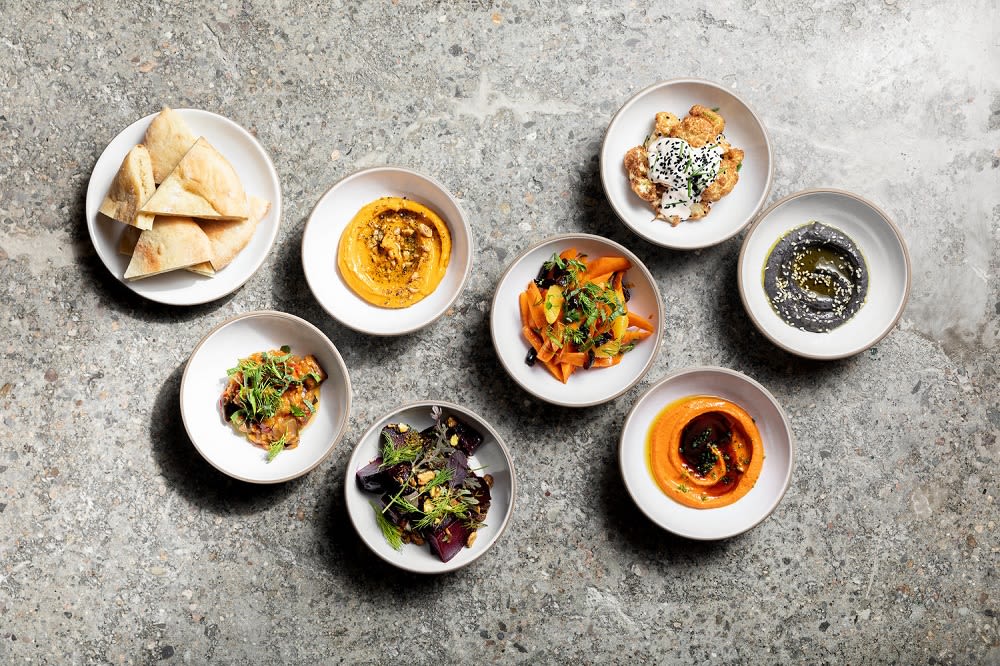 Photo courtesy of Chickadee
Chickadee is a chic, airy restaurant located in the Innovation and Design Building. The menu features locally-sourced ingredients and is known for its pita lunch menu and innovative pasta dinners. The hand-crafted cocktails are made with unique fresh ingredients, and the creative small plates make it an ideal venue for enjoying a meal with friends. The large plates, such as the Grilled Swordfish with smokey eggplant, romano beans, and sauce salmoriglio, are also impressive. Chickadee is a wonderful place for a romantic dinner, light fare, and cocktails with friends.
Committee Ouzeri and Bar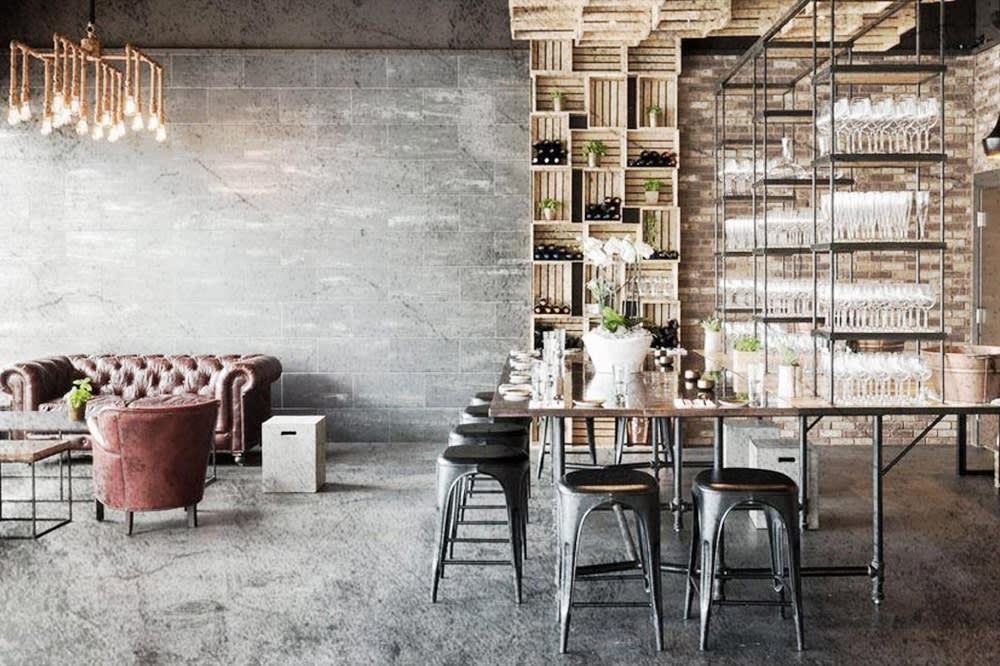 Photo courtesy of Committee Ouzeri and Bar
If you're looking for a truly unique dining experience in Boston, look no further than Committee Ouzeri and Bar. This Greek-Mediterranean restaurant offers an array of delicious mezze, or small plates, perfect for sharing with friends. The atmosphere is fun and energetic, with modern industrial decor, and the menu features Greek-influenced seafood and meat dishes. They also offer "feasts," like the Poikilia Kreaton, a selection of grilled meats served with potatoes, tyrokafteri, tzatziki, and grilled pita. The expansive outdoor patio is a fantastic place to enjoy mezze and cocktails during New England's warmer months.
Steak and seafood
Morton's Steakhouse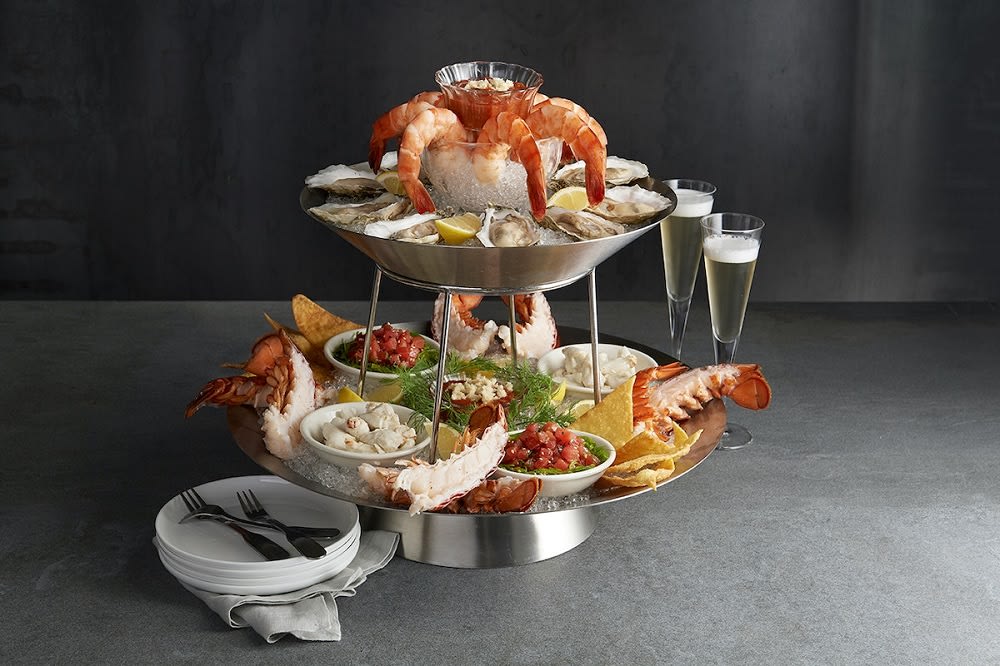 Photo courtesy of Morton's Steakhouse
Morton's Steakhouse is an iconic upscale seafood restaurant with a prime location in the waterfront district. The stylish interior and 100-seat seasonal patio provide superb waterfront views, making it a popular locale for after-work drinks and group events. The menu features aged beef, fresh seafood, and fabulous desserts, making it an excellent choice for special occasions. Morton's is also known for its attentive service and casual elegance, making it a perfect spot for a night out on the town. Whether you're looking for a sunny lunch spot or a romantic dinner destination, Morton's Steakhouse is sure to impress.
Woods Hill Pier 4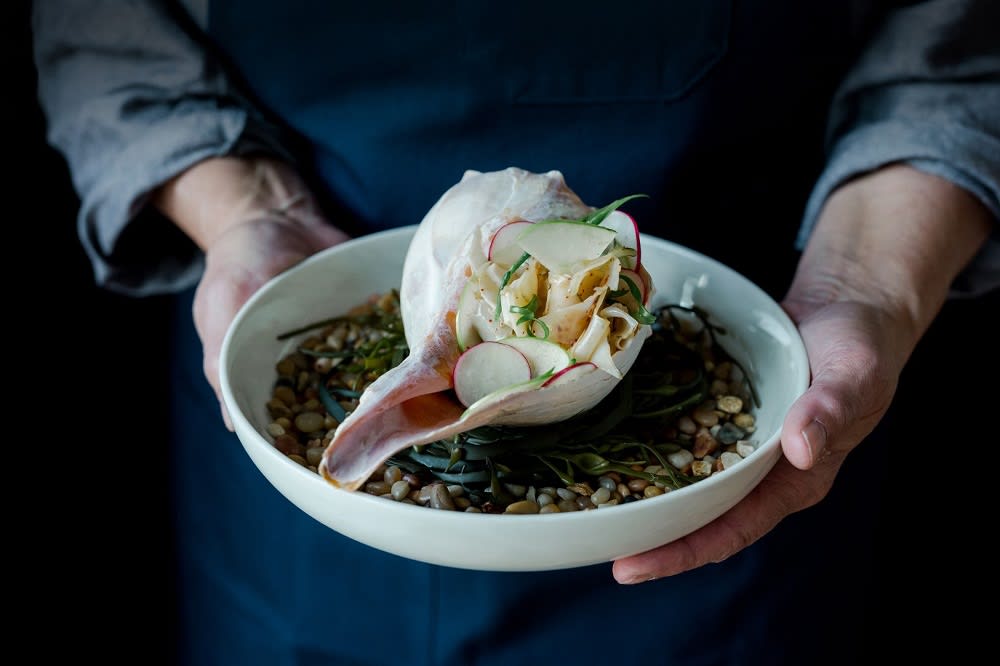 Photo courtesy of Woods Hills Pier 4
Woods Hill Pier 4 is a top-notch fine dining establishment in Seaport, known for its creative American fare and stunning harbor views. The menu is seasonally-based and locally sourced, with all ingredients being organic and non-GMO. The meat comes from ethically raised, grass and organically-fed animals sourced from local farms, including The Farm at Woods Hill. Delectable dishes include Crispy Lamb Ribs with Urfa pepper and red wine glaze and fresh Tagliolini with sea urchin, grilled poblano, fresh cream, and nasturtium. To round out the dining experience, they also serve up some of the best cocktails you'll find anywhere.
Del Frisco's Double Eagle Steakhouse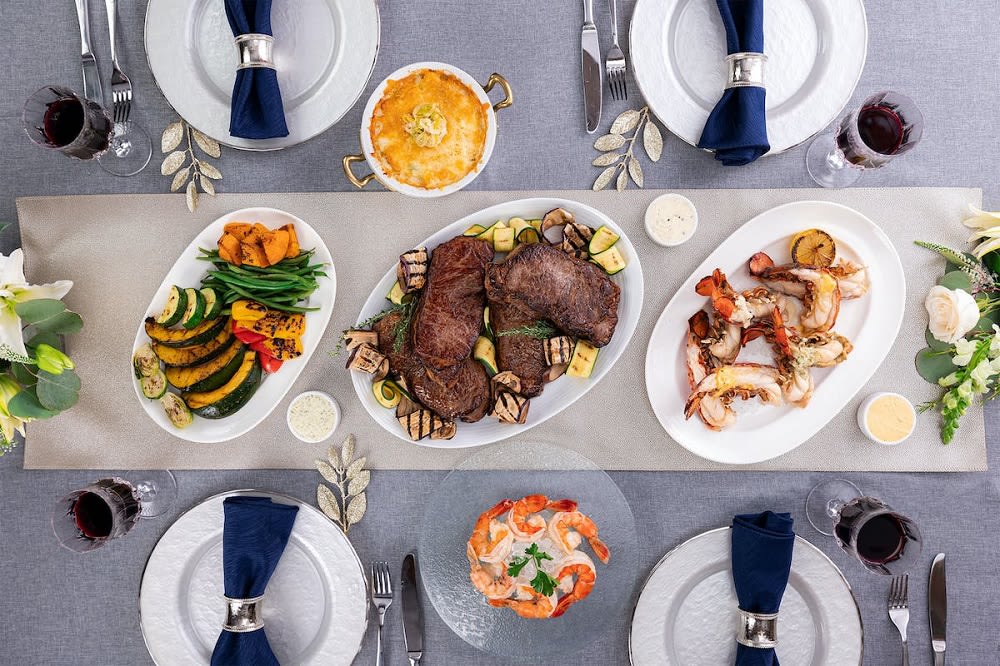 Photo courtesy of Del Frisco's Double Eagle Steakhouse
Del Frisco's Double Eagle Steakhouse is an excellent choice for a romantic evening out or a large group celebration. The opulent setting is sleek and modern, with panoramic water views. The upscale dress code is strictly enforced, enhancing the restaurant's fine dining experience. Del Frisco's also offers valet parking. The expansive dining room includes a 40-seat bar, a 70-seat outdoor veranda, and three private dining rooms. The menu features USDA Prime beef and fresh seafood, and its wine list has over 1200 varieties. Start your meal with a phenomenal Tuna Tartare, and for your entree, we highly recommend the dry-aged ribeye or the filet mignon. Del Frisco's Double Eagle Steakhouse is genuinely a cut above the rest.
Asian
Nautilus Pier 4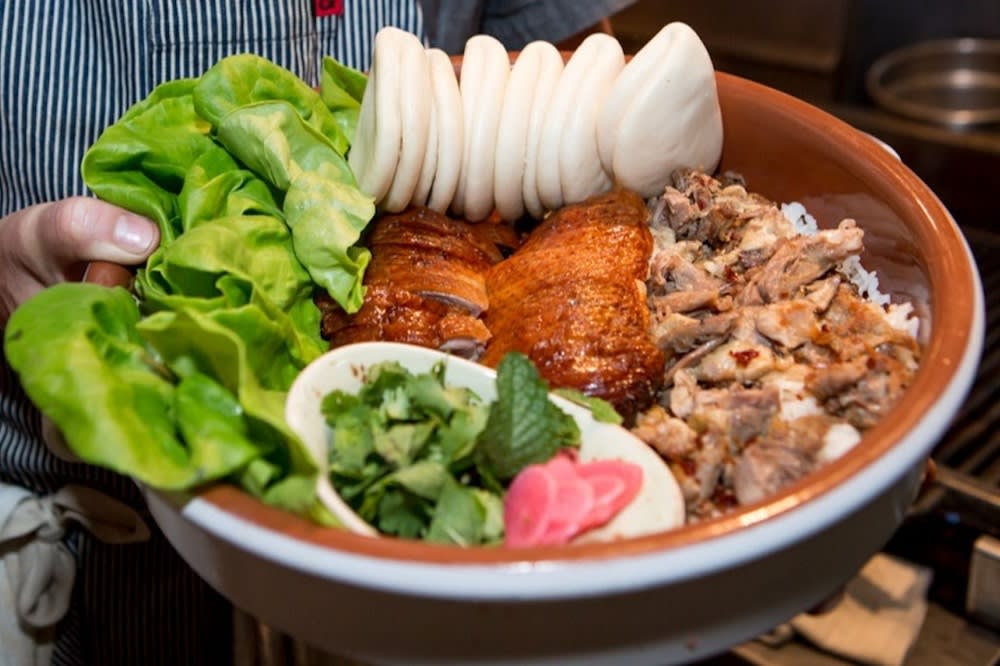 Photo courtesy of Nautilus Pier 4
Nautilus Pier 4 is an excellent place for an upscale dining experience featuring Asian-inspired seafood. The atmosphere is lively, and the waterfront dining features beautiful water views. The small plates are perfect for a light bite. A few menu favorites include the Chilled Octopus Salad with assorted seaweed, sesame chili ponzu, cucumber sunomono, and fried garlic; the Blue Crab Fried Rice made with jumbo lump crab, Thai lime nam jim sauce, garlic, egg, and scallion; and the Za'atar Lamb Chops with cucumber-dill tzatziki, marinated eggplant, crispy chickpeas, and harissa lime mojo.
Veggie options include Raclette-stuffed peppers, poblano peppers a la plancha, Marcona almond romesco, charred alliums, and roasted garlic Migas. Nautilus is also famous for the whole roasted Peking Duck.
Empire
Photo courtesy of Empire
Empire is a popular destination for those seeking exquisite Pan-Asian cuisine. The restaurant features multiple dining rooms, each with its own unique style, blending Old-world China with modern designs. The space is trendy, clublike, and a popular destination for celebs and the Boston elite. The menu features hot and cold Asian-inspired appetizers, like Tuna Truffle Sashimi and Handmade Chicken Dumplings, and main dishes, like Korean Rubbed NY Strip or Sharables like Singapore Street Noodles. The restaurant also offers an extensive sushi menu, expertly prepared by their skilled sushi chefs.
Work with us to find your dream Boston home
The Seaport area in Boston is a fantastic place to live, work, and dine. The restaurants here have exceptional and innovative menus and offer incredible waterfront views, and these notable establishments are perfect for a romantic evening or cocktails with friends. If you are interested in buying or selling
Boston real estate
, reach out to me and my team at
Ricardo Rodriguez & Associates
. We are deeply experienced in Boston real estate and dedicated to helping each of our clients find the home of their dreams.